Anyone here use this Plexus Plastic Cleaner? I stopped by the bike shop on the way home yesterday to see what they had for cleaning the face shield on the new helmet I bought a couple of months ago. This is what they showed me, so I bought a can. First off....this stuff is EXPENSIVE!
Almost $30 for the can.
Anyway, I figured I'd give it a shot, so I tried it on the windshield first. WOW....what a difference. Windshield looks brand new...clear as it could be(I had been using regular glass cleaner). So I went on and used it on the face shield, and it cleaned it right up, no smears, scratches, distortion...nuttin! The face shield on this helmet was always clear, and I had not cleaned it at all since I bought it. It even sheds water pretty well, but it had gotten a little smudgy on the inside....mostly from me screamin at other drivers....I tend to spit a little, apparently....
Anyway, just wanted to pass along this info on this product. It's high dollar, but the can should last me a couple of years...maybe.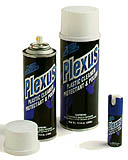 _________________________________
I know the voices aren't real...but they have some really cool ideas
Joel Adams
1981 GL1100 GoldWing Interstate
1996 GL1500 GoldWing Interstate